Narrative (Essay 33) Resumes
Anu and Queen Antu flew (In the skyship he'd leave to Inanna) with Enlil's sons Ninurta and Adad/Ishkur/Teshub (known in the Andes as Viracocha) to the Tiahuanancu temple, observatory and metallurgy (tin) works Ninurta built at Lake Titicaca. They viewed the spaceport Ninurta built on the plain below Titicaca as an alternative to Baalbek when Marduk and the Igigi took over in Lebanon. On the runway of the new facility, "Anu and Antu's celestial chariot stood ready, with gold to the brim it was loaded." [Sitchin, Z., 1990, The Lost Realms page 255, The Lost Book of Enki, 2002,page 272 -275]
Anu summonsed his grandson Marduk from exile in North America to the new Spaceport atop the Andes.
Marduk had once been heir to the throne of Nibiru itself. Marduk's mother, Damkina, daughter of Alalu, Anu's predecessor, married Enki and bore Marduk, who Alalu and Anu agreed would succeed Alalu as King. But Anu deposed Alalu and Marduk married hybrid Adapite Earthling, Sarpanit.
The Nibiran Council banned Marduk from Nibiru and from rule on Nibiru. The ban punished him for marrying Sarpanit. The Council reprimanded Marduk for supporting the Igigi Astronauts when they kidnapped slavegirls and then seized the spaceport in Lebanon.
Anu thought he'd added to Marduk's hurt when he favored Marduk's younger brothers Dumuzi and Ningishzidda and invited them, but not Marduk, to the homeplanet. Anu wondered if "by Dumuzi and Ningishzidda to Nibiru inviting, Marduk's ire I myself have caused. " [Sitchin, Z., 2002, The Lost Book of Enki, page 272]
Marduk and his son Nabu came before Anu at the new spaceport. Marduk told the king that Sarpanit had died. Anu pardoned Marduk and commuted his exile. [Sitchin, Z., 2002, The Lost Book of Enki, page 272]
"Anu to his children words of guidance said: If Mankind, not Anunnaki, to inherit the Earth is destined, let us destiny help. Give Mankind knowledge, up to a measure secrets of heaven and Earth them teach, laws of justice and righteousness teach them, then depart and leave." [Sitchin, Z., 2002, The Lost Book of Enki, page 275]
After Anu and Antu flew back to Nibiru, their rocket filled with gold, Marduk raged about the new South American spaceport and the award of regions. He blamed Inanna as a cause of the death of his brother, Dumuzi, for which he, Marduk, had been blamed. Now, Marduk bitterly noted, Inanna consorted with Anu, so Anu gave her reign over India, as well as Uruk.
Enlil ordered Adad to guard the Enlilite South American facilities from Marduk while the other Nibiran Earth Mission leaders returned to Mesopotamia. [Sitchin, Z., 2002, The Lost Book of Enki, page 275 -276]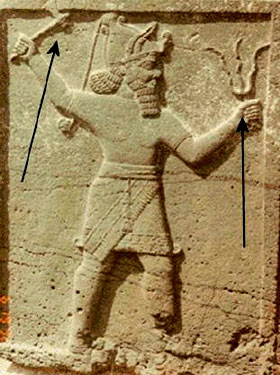 Ishkur/Adad
Enlil named the present era, his, "Age of the Bull." He had his sons and grandsons declare themselves and the other Nibirans and their pure descendants gods. The gods, he ordered, would direct their slaves to build temples and cities to serve them. He ranked his father, King Anu, 60 and designated himself and his successor, Ninurta, 50s. Enlil ranked Enki 40, Nannar, 30. Nannar's son Utu ranked 20, Ute's sister Inanna,15.
The "gods" rebuilt the cities of Edin/Mesopotamia; in each city there they built a temple-home for its principal god. Ninurta got Lagash, where he had a both a hangar for his aircraft, armory for his missiles and a temple-home for himself and his wife, Bau. Utu, from his rebuilt city of Sippar, was given the task of creating laws for the humans. Nannar was given the city of Urim. Ishkur/Adad returned from the Andes to a temple in the mountains north of Mesopotamia. Marduk and Nabu came to stay at Enki's place in Eridu. [Sitchin, Z., 2002, The Lost Book of Enki, pages 276 -278]
The Anunnaki lords created Ninurta's city, Kishi, the first city ruled by a Adapite king whom Ninurta appointed. Ninurta had journeyed to Eridu to get the computer programs (MEs) he needed for a human city.
Remember that Inanna had, in reaction, traveled to Eridu on the Persian Gulf, seduced Enki and got him, while he was drunk, lusting and enchanted by her, to give her MEs which would let her convert her Mesopotamian temple precinct at Uruk into a king-ruled city dedicated to her. Enki had tried to get the MEs back, but Enlil had not only said Inanna could keep them for Uruk, and that "When their time term of Kishi shall be completed, to Ung-ki kingship shall pass." [Sitchin, Z., 2002, The Lost Book of Enki, page 281]
Marduk felt he, not Inanna, should succeed Ninurta as the Lord whom the next line of Earth kings should obey. Marduk raged when he heard that Inanna also now had precedence over him in Mesopotamia. (to be continued)
Next: Essay 34, Enlilites Bomb Marduk's Babylon Spaceport; Confound Earthling Languages

""