---
Created by
Sasha Lessin, Ph. D.
based on
Study of Zecharia Sitchin's 2002 epic
The LOST BOOK OF ENKI: Memoirs and Prophecies of an Extraterrestrial God
---
Essay 35 Marduk/Ra Contests Ningishzidda/Thoth for Nile
Enki/Ptah Deposes Thoth
Thoth, As Quetzalcoatl, Creates Mesoamerican Civilization
Story So Far
Marduk's allies, Igigi, ruled estates in Lebanon and Sumer. Nabu, Marduk's son, summoned these Igigi communities to Marduk's city, Babylon, to build a launch tower from which Marduk could challenge the Enlilite spaceport on the Sinai. Enlil asked Marduk to stop but he kept building his tower.
"Marduk an unpermitted Gateway to Heaven is building, to Earthlings he is entrusting," Enlil told his clan, the Enlilites. They bombed the launch tower and the Nabu's camp at Babylon. The Enlilites scattered Marduk's servants and programmed them to different languages and scripts.
Marduk fled to Enki's region, the Nile.


Narrative (Essay 35) Resumes
"When Marduk [now called Ra], after a long absence, to the Land of the Two Narrows [Egypt] returned, Ningishzidda [called Thoth in Egypt] as its master he there found. With the aid of offspring of the Anunnaki [astronauts from Nibiru] who Earthlings espoused did Ningishzidda the land oversee, what Marduk had once planned and instructed by Ningishzidda was overturned." [Sitchin, Z., 2002, The Lost Book of Enki, page 284].
For the next 350 years, the armies of brothers Marduk/Ra and Nigishzidda/Thoth clashed over Egypt. Finally, Enki, their father, known in Egypt as Ptah, ordered Thoth to Leave Egypt to Ra.
Thoth moved on: he guided the building of the Stonehenge around 2800 B.C.. Exiled, Thoth, after he'd finished with Stonehenge, took a band of his followers in 3113 B.C. to Mesoamerica, where he (once Ningishzidda, now Quetzalcoatl, the Winged Serpent) brought his Sumerian and African overseers and technicians with him to the Western Hemisphere. Thoth helped set up observatories in Central America, gave the Mayans their calendar and also designed and supervised the building of observatories and tin and gold processing plants in the Andes [Sitchin, 1993, When Time Began, page 310; 2002; The Lost Book of Enki, pages 84 -285].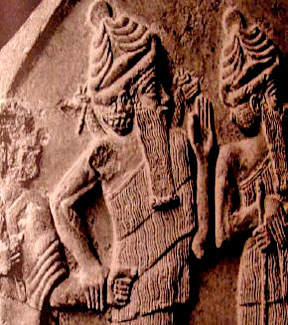 Thoth/Quetzalcoatl/Ningishzidda
"Inscriptions on rocks on the shores of Lake Titicaca also link the ancient Peruvian script to inscriptions found on Easter Island in the middle of the Pacific." Mesopotamian, Indus Valley and Easter Island writing were all related because they were all used by the Nibirans, who transported technology and people all over the globe. [Tellinger, M., 2006, Slave Species of god, page 167]
Marduk (as Ra) reunited Egypt. He honored Father Enki/Ptah. Enki hadn't passed rule of Nibiru to Marduk, but maybe he could settle Ra down in Egypt. Enki gave Marduk MEs (super computer programs) to make Egypt prosper; he gave him all his knowledge except how to revive the dead.

Ra rewrote Egyptian history, relegating Thoth to "the Divine Measurer." Ra replaced Thoth's image on the "Stone Lion" (Sphinx) with a face: Osiris/Asar, Ra's son.

Next: Essay 36:

References:

Bramley, W.
1989, The Gods of Eden

Cremo, M. and Thompson, R.
1993, Forbidden Archeology: The Hidden History of the Human Race

Cremo, M.
2003, Human Devolution: A Vedic Alternative to Darwin's Theory

Freer, N.
1999, God Games
2000, Breaking the Godspell

Hazelton, L.
2007, Jezebel

Hoagland, R. & Bara, M.,
2007, Dark Mission: The Secret History of NASA

Marrs, J.
1998, Alien Agenda
2000, Rule By Secrecy (Part V, Ancient Mysteries)


Sitchin, Z.
1976, The 12th Planet
1983, The Stairway to Heaven
1985, The Wars of Gods and Men
1990, Genesis Revisited
1990, The Lost Realms
1993, When Time Began
1995, Divine Encounters
2002, The Lost Book of Enki
2004, The Earth Chronicles Expeditions
2007, The End of Days
2007, Journeys to the Mythical Past
2010, There Were Giants Upon The Earth: Gods, Demigods and Human Ancestry:
The Evidence of Alien DNA
Strauss, B.,
2006, The Trojan War

Tellinger, M.
2006, Slave Species of god

Thompson, R.
1993, Alien Identities
References:

Bramley, W. W.
1989, The Gods of Eden

Cremo, M. and Thompson, R.
1993, Forbidden Archeology: The Hidden History of the Human Race


Cremo, M.
2003, Human Devolution: A Vedic Alternative to Darwin's Theory


Freer, N.
1999, God Games
2000, Breaking the Godspell

Hazelton, L.
2007, Jezebel

Hoagland, R. & Bara, M.,
2007, Dark Mission: The Secret History of NASA

Marrs, J.
1998, Alien Agenda
2000, Rule By Secrecy (Part V, Ancient Mysteries

Sitchin, Z.
1976, The 12th Planet
1983, The Stairway to Heaven
1985, The Wars of Gods and Men
1990, Genesis Revisited
1990, The Lost Realms
1993, When Time Began
1995, Divine Encounters
2002, The Lost Book of Enki
2004, The Earth Chronicles Expeditions
2007, The End of Days
2007, Journeys to the Mythical Past
2010, There Were Giants Upon The Earth: Gods, Demigods and Human Ancestry:
The Evidence of Alien DNA
Strauss, B.,
2006, The Trojan War

Tellinger, M.
2006, Slave Species of god

Thompson, R.
1993, Alien Identities